One of the last pairs of skis I built for the year was a pair that I will potentially send to the Backcountry Magazine Gear test in March of 2022. I've not named this ski yet but I have some thoughts about this ski that I want to put into writing.
Origins
This ski is a copy of a ski I built for a Smuggs local last season. This particular customer happens to be one of the more talented skiers I know. He is light on his feet yet strong in his form and knows how to bend a ski. He is a talented freeski coach, has skied lots of different skis and knows what he is looking for in terms of performance from his skis. In fact I told him I was a little nervous about building him a set of skis because of his ski and experience. To be honest, I was afraid that my ski would disappoint him. After discussing his design we settled on a 180 cm ski that is 136/102/123 which measures out to a 17.1 meter radius. We designed in a 30 cm rocker tip and a 15cm mini tail rocker with 4mm camber under foot.
The core profile combined with the composite we used yielded a medium, to maybe slightly more than medium flex pattern. This ski included 19oz triaxial fiberglass with the addition of a new carbon fiber product called Supercomp. Supercomp carbon includes a backing of a Z axis fiber that decreases some of the vibration that some carbon fiber products can be know for.
Using this material was a bit of an unknown since this was a new material for me. The result was impressive. After the first few days I had feedback from him saying how impressed he was with the on snow feel of this ski. It was stable and damp but with enough pop to give the ski plenty of energy coming out of the turn.
I got to ski this ski for a day myself. I normally do not get to try out skis I make for customers. I immediately knew I had to rebuild this ski for the gear test.
Fast Forward about 10 months…………………….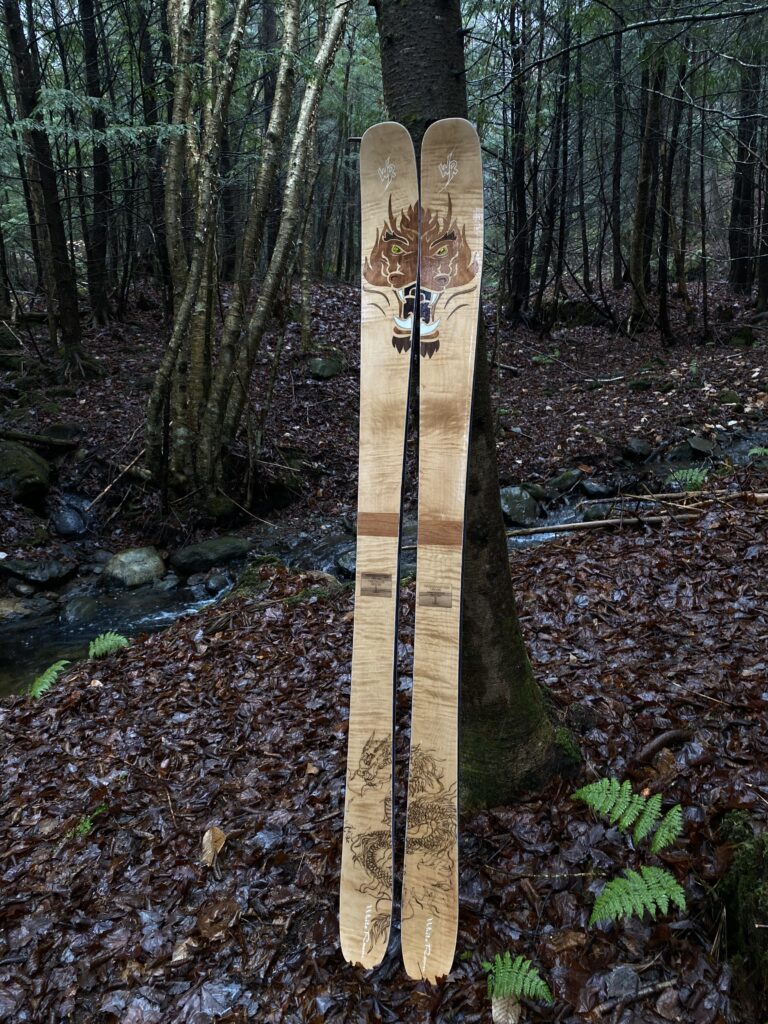 Performance
I now have several days on this model, built as close to the original as possible. The only thing I changed was adding a skin notch to the tail. Same core design, same core profile and same composite make up. I have to say that I am very pleased how this ski handles so far. It is stable and smooth at speeds of greater than 50 mph. It makes medium and long radius turns with ease, there is no sense of excessive chatter or vibration. Shorter radius turns are a little more work but when the snow is softer this becomes easier and the ski feels fairly quick edge to edge giving a little pop at the end of the turn to accelerate you into the next arc. I have not had the chance to try it out in powder yet. But I'm sure it will perform well in powder conditions.
Update 1/18/22: I now have a at least 10-12 days on this ski. As conditions have improved and I have become more familiar with how this ski handles, I now have a better feel for it. As soon as the conditions softened the short turn radius turns have become more automatic and with a little pressure on the tail at the end of the turn you can generate some good energy from the ski that propels you into the next turn, just be sure you are on top of it. I also recently got to ski them in some moderate powder. They handled the heavier snow with ease. I can't wait to tour on them and get them into some deeper and lighter snow.
Update 2/6/22: Vermont finally got some decent snowfall and the backcountry is now pretty much in with most zones being skiable. I toured on this pair over the weekend after 16-20″ of snow fell over a 2 day storm. We did ~6.5 miles of combined up and down with 2500 feet of elevation gain. The ski felt light on the uphill and toured easily. After we gained the height of land and started down the ski showed its versatility in deep snow. We skied 16-18″ of untracked light snow with a decent base under it. This was the first time this entire season that I felt like I didn't have to hold back on off-piste terrain. This ski provides a good mix of float, turn radius, and initiation.
This ski performs as well if not better than any of my prior gear test submissions. I have a good feeling about sending this ski for testing. If you have a suggestion for the name of this model let me know!