This coming March of 2023, WhiteRoom Skis will celebrate it's 10th year of business. I actually can't believe that it has been that long. It has seemed to go by in a blur spinning tools, knife blades and spreading epoxy. For those of you that don't know the story behind WhiteRoom, let me tell you how I came to this point. In 2003 I ripped an edge out of a pair of skis. I was scheduled to go on a trip to Whistler/Blackcomb within a week or so. I quickly bought a pair of used powder skis for my trip. The ski was relatively soft and skied well in fresh powder. They did not perform well in cut up powder, crust or anything firm. Not exactly the conditions we are dealt daily here in Northern Vermont. In fact, I grew to hate that ski. I have a good friend that was working in the snowboard industry at the time and I asked him if there was a way to stiffen a pair of skis. He had some ideas about ripping off the top sheet and adding a layer of fiberglass. This got me thinking that I had no idea how skis were actually built and I starting researching, reading and watching everything I could find about how skis are built. Within a year or so my friend and I had the idea of building and selling custom skis right here in Vermont. But, life got in the way, he got divorced and moved across the country and the idea went dead for a few years…..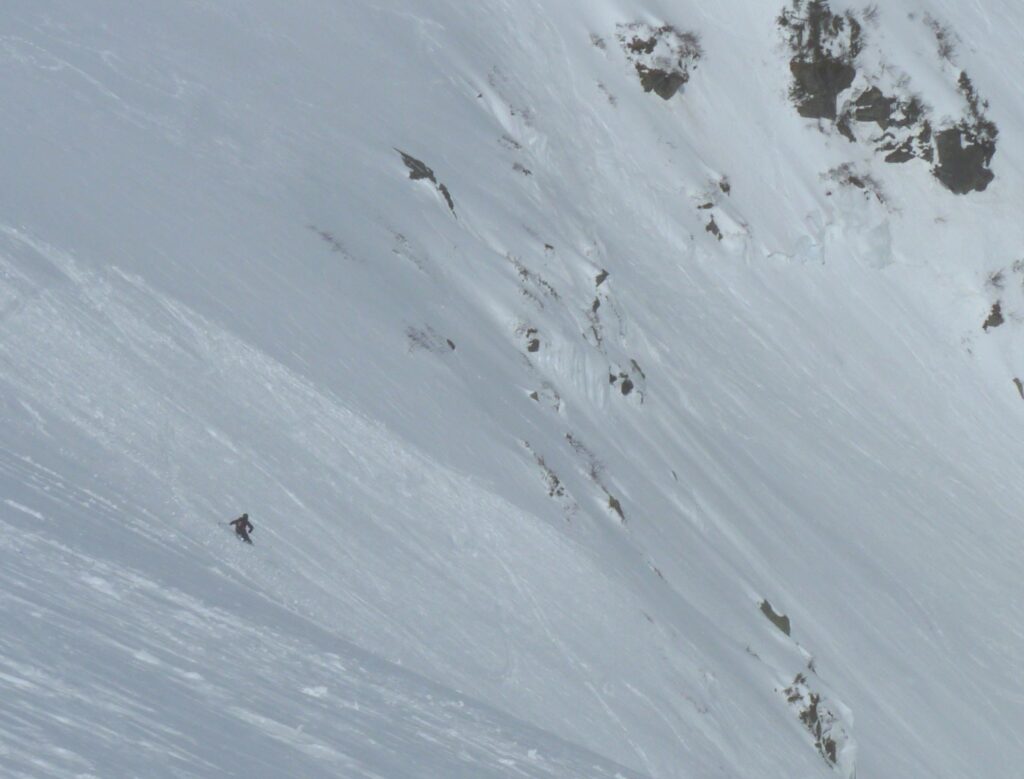 Fast forward to 2008 and the idea of building skis again caught my attention. I decided I would just go ahead with my plan to build skis on a small scale for just me and maybe friends or family. I thought this would be a good way to build the skis I wanted without breaking the bank…little did I know at the time. I had no tools, no press, and no workshop. I had to start somewhere and it started with building the press. I bought some steel from a local construction and demolition company. My friend welded press the in his barn, put it on a trailer axle and I towed it to my house. Where it sat while I went to work building my workshop. Within few months I was able to move the press in and got to work on the first set of skis.
One night just before pressing that first pair I asked my wife what I should I name my skis. She thought for a minute and said "What's that word you use all of the time when you talk about skiing powder?" I looked at her for a second as I thought about what she meant, then it came to me…."White Room?" With absolute certainty she replied "yes, White Room!" The name has stuck and I modified it to be one word with the R capitalized. I did this only because the original font I used made it look funny if there was a space in between the two words, so for ever more it is WhiteRoom. If you aren't familiar with the term, White room is a slang term meaning everything you see is white… as in powder over your head and powder face shots.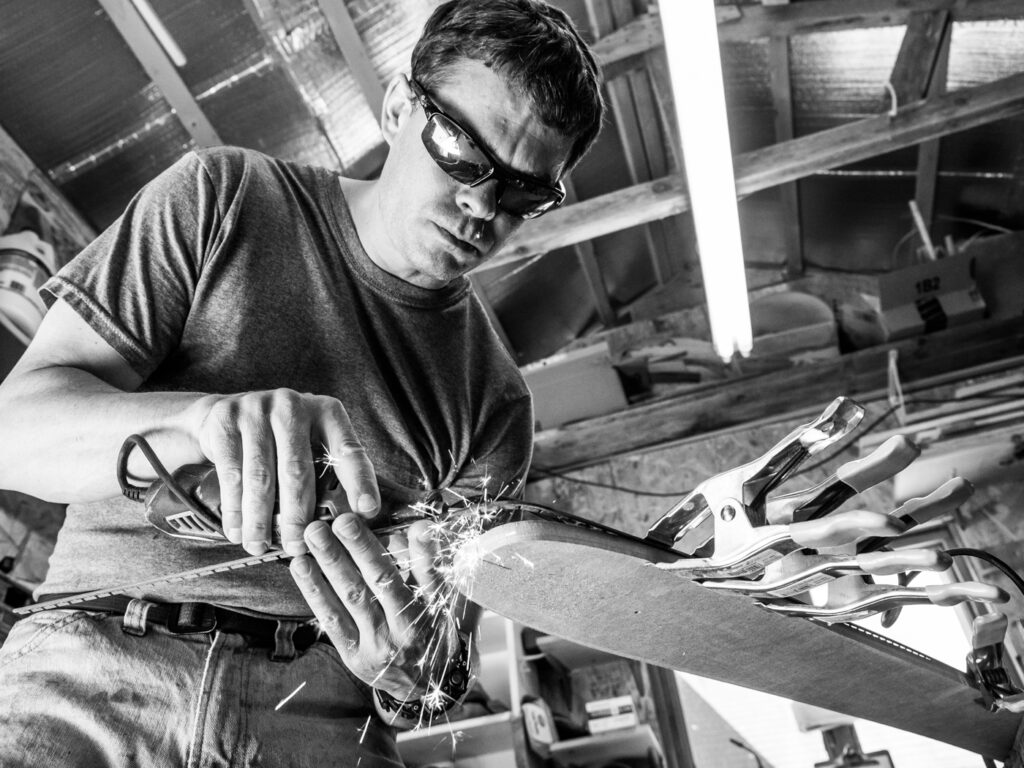 In the spring of 2010 I finally had everything ready to go in the press. Much of what I remember about building that first set was a process of problem solving, improvising, trial and error. Mostly error. The edges were wavy, the bases weren't flat, I gouged the sidewall with a router… multiple times, they came out with way too much camber and I put them in the mold with tip and tail reversed. But I did it. I built a pair of skis! They really didn't ski all that well. They did ok in some conditions but all that camber made them dive in powder. I was still super proud to have accomplished my goal. I immediately went to work on the next few pair. That summer I built 6 pair for friends and family gaining experience and knowledge with each pair. The next year it was 10 pair and then 15. The mistakes became fewer and fewer while at the same time the quality increased dramatically.
In the winters of 2010-11, 2011-12 and 2012-13 there were quite a few of those original skis ripping around Smuggs and Stowe. Some are still in use today. Immediately I started getting questions from folks in the lift lines, "How do I get a pair of those?", "How much do those cost?", "Where did you get those, Utah?" "Does your shop have black curtains?". After hundreds of questions and lift ride conversations, it occurred to me that maybe there was an opportunity to build and sell custom skis right here in Vermont. I knew of a couple other private builders but didn't know of anyone one else building and selling skis here in Vermont. If you go to any other major ski market in the country you'll usually find a custom builder in the area but not here in Vermont.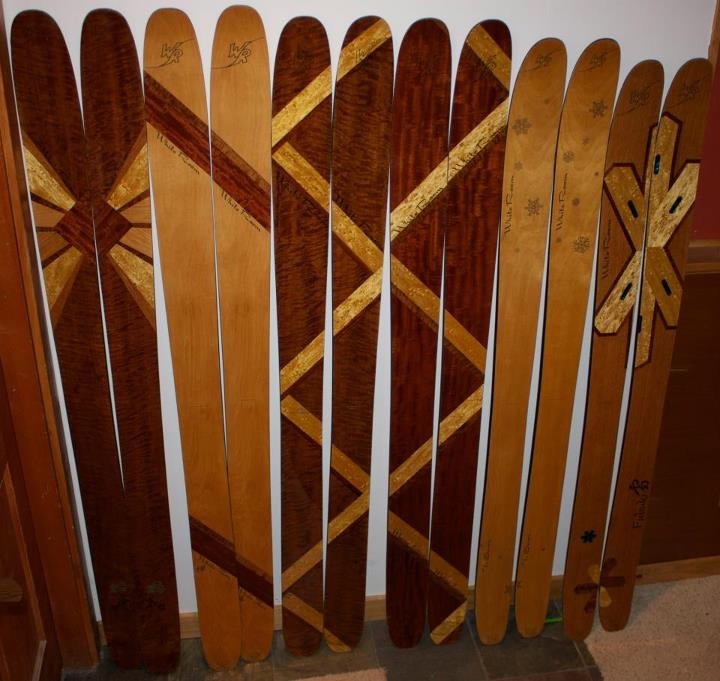 In March of 2013 I made it official and registered WhiteRoom Skis as a business. With each passing year my skis have constantly evolved. In 2015 entered a local business competition for start-ups and ended up winning. From that competition I got some very good feedback. One piece of that was advice to find a way to get my skis tested by one of the major ski publications. That summer I went to work on a pair of skis designed specifically to be entered in the Backcountry Magazine gear test which is held in March of each year. I designed a ski that I thought might be able to handle a variety of conditions here on the east coast and be light enough for backcountry skiing. That ski was tested in March 2016 against ~200 other pair of skis from many of the big brands and a few smaller brands around the world, most of them well known names in the industry. The skis are tested and scored on a variety of qualities. Only ~50-60 pair make the cut for publication in the magazine. In the summer of 2016 I received a call from the magazine asking for more information about my ski, signaling that my ski made the cut! It was very surreal for me, a guy who started just making skis for fun in his tiny shop, has beaten out a large portion of factory built skis to be published in the 2017 Backcountry Magazine Gear Guide issue. I did it again in 2019 and was published in the 2020 gear guide. I have sent skis to be tested four times and made the magazine twice. This past year they let me know I was in the final cut in the 2022 test and just missed out on being published for the third time.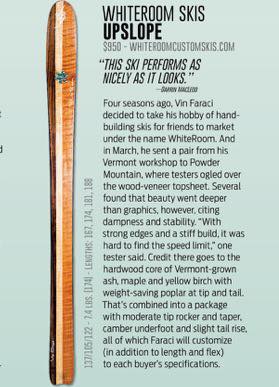 Over the years my process and product have become more efficient and more refined as I upgraded my tools to include a CNC router, drag knife and laser as well as belt, stone and edge grinding tools. I have experimented with new materials including various weights of fiberglass, different types of carbon fiber, aramid fiber, titanal and clear nylon top sheet material. My process continues to evolve constantly as I make very subtle changes. For example, changing the edge recess depth from .7 mm to .5 mm to achieve a flatter base out of the press. This season I will be adding some new materials to my library like synthetic veil between the clear top sheet and the decorative veneer layer to further improve the bonding of these layers.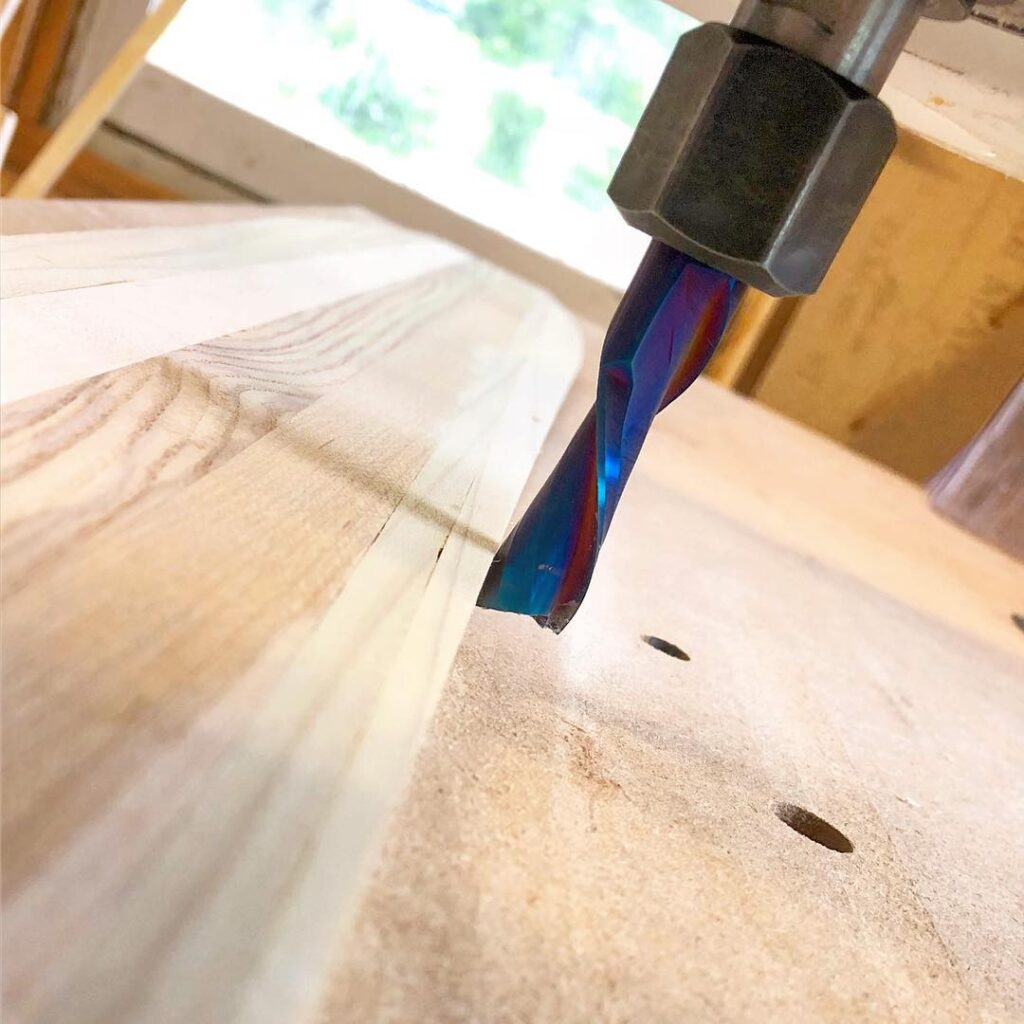 Each pair now takes ~2 to 2.5 days of labor to go from raw materials to pressed skis and eventually skis that are flattened, tuned, waxed and ready to rip. Each year I have a handful of customers come by the shop to help with the layup of their skis. It is really a lot of fun to share this with the person the skis are meant for. It is always special for them to see all of the materials come together into a finished product.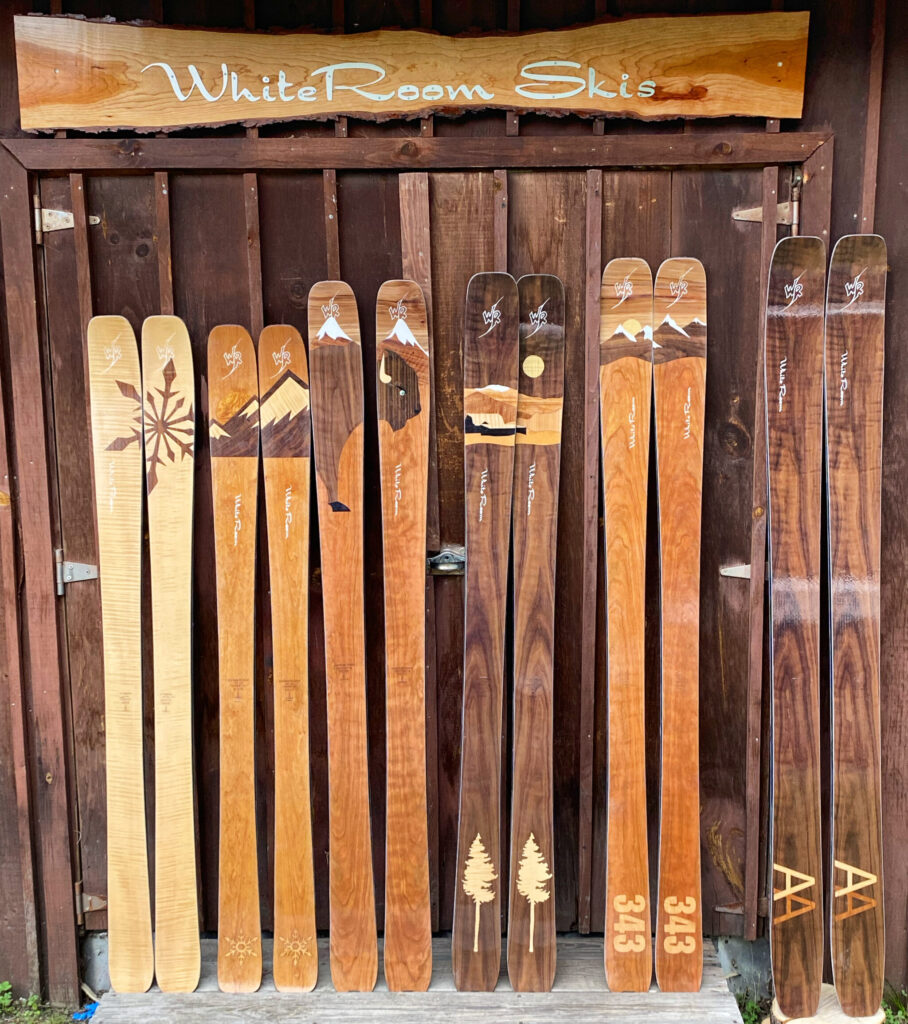 Being human, I still make an occasional mistake. I have always said "it's ok to make a mistake, just don't make the same one more than once." I've learned many things the hard way when it comes to building skis. To this day I am a firm believer that every mistake I've made along the way and learning from each one is what had led me to being able to produce the high quality product that WhiteRoom Skis is known for.
For the record, my shop does not have black curtains.